We listen to a lot of music every day between the two of us. We like a lot of it and dislike a lot more. We disagree on most things and agree on a few. So here is Richard and Patrick's albums of 2008. Albums we've enjoyed throughout the year, regardless of 'cool' or any other standard measuring device.
We've (in an act of rare modesty) not included the three albums released on Half Machine this year. However, they would all of course feature in everybody else's lists:
MIT 'Coda' (HMR005)
Pacific! 'Reveries' (HMR009)
Francois Virot 'Yes or No' (HMR011)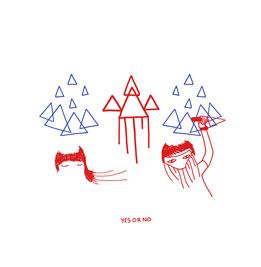 So, in no particular order, here are our favourite albums of the year:
Benji Hughes 'A Love Extreme'
Solange 'Sol-Angel and The Hadley St. Dreams'
No Age 'Nouns'
Nagisa Ni Te 'Yosuga'
Various 'NotWave'
Various 'Calypsoul 70: Caribbean Soul & Calypso Crossover 1969-1979'
Arthur Russell 'Love Is Overtaking Me'
Lindstrom 'Where You Go I Go Too'
Alphabeat 'This Is Alphabeat'
Q-Tip 'The Renaissance'
The Mae Shi 'HLLLYH'
Seun Kuti & Egypt 80 s/t
Mirror Mirror 'The Society for the Advancement of Inflammatory Consciousness'
Scarlett Johansson 'Anywhere I Lay My Head'
Syclops 'I've Got My Eye On You'
Juvelen '1'
Meneguar 'The In Hour'
Lil' Wayne 'Tha Carter III'
Vampire Weekend s/t
Crystal Stilts 'Alight of Night'
Various 'Italians Do It Better: After Dark'
Zombie Zombie 'A Land For Renegades'
Nick Cave & The Bad Seeds 'Dig Lazarus Dig!!!'
Ratatat 'LP3'
White Denim 'Workout Holiday'
Laura Marling 'Alas, I Cannot Swim'
Mystery Jets '21'
Evangelicals 'The Evening Descends'
Hot Chip 'Made In The Dark'
Gang Gang Dance 'Saint Dymphna'
Portishead 'Third'
Squarepusher 'Just A Souvenir'
Times New Viking 'Rip It Off'
Fleet Foxes s/t
Bon Iver 'For Emma, Forever Ago'
Sigur Ros 'Me_ su_ í eyrum vi_ spilum endalaust'
Mount Eerie 'Lost Wisdom'
Various 'Dreams Come True: Classic First Wave Electro 82-87'
Eine Kleine Nachtmusik s/t
Eli "Paperboy" Reed & The True Loves 'Roll With You'
Kleerup s/t
Amadou & Mariam 'Welcome To Mali'
NB - We've probably forgotten just as many as we've included.